---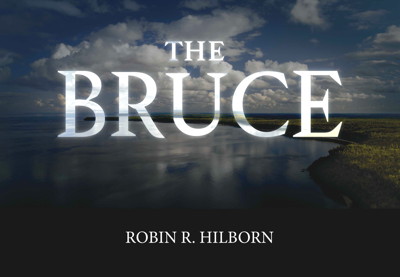 ---
New book The Bruce recounts the exciting history of Bruce County
The exciting new documentary film "The Bruce" has a companion book, The Bruce, available now (see order form below).
Big crowds at Saugeen Shores on May 12 (about 1,100) and June 2, 2018 (about 850) applauded the premiere of the three episodes of the film.
For a quick overview of the book, see the Contents list. Or you can read the complete Preface, in which author Robin Hilborn tells how he followed the film script, dividing the history of Bruce County into three parts.
Part One covers history up to 1850. The Ojibway fight off the Iroquois and occupy their traditional territory around the Bruce Peninsula. Visitors arrive—Métis fur traders, Methodist missionaries and European commercial fishermen who invade the fishing grounds.
In Part Two, the pioneer settlement period, immigrants from Europe pour into the newly-created Bruce County. The third part introduces the 20th century—an upsurge in tourism, the creation of two national parks and the boom brought by a nuclear power plant at Douglas Point.
The Bruce is hardcover, 236 pages and $35, from Robin Hilborn at www.familyhelper.net/bruce. It includes an index, a bibliography of 287 books about Bruce County history, and six appendices, three of which are posted here:
Appendix A: Making "The Bruce"
Appendix B: Bruce County Historical Society
Appendix C: The Bruce Krug manuscripts
Events
The Bruce featured at
Anne Judd's Brucedale Press table
Port Elgin Farmer's Market at the Parkette
Meet the author; get a signed copy
July 4, 2018, 10 a.m. to 2 p.m.


Official book launch of The Bruce
Talk by Robin Hilborn — Book signing
Aug. 13, 2018, 7 p.m.
Bruce County Museum & Cultural Centre,
33 Victoria St. N., Southampton, Ont.

---
How to order
To order The Bruce, use the form below. Mail with your cheque to:
421 Clarendon St., Southampton ON N0H 2L0
---
Please send me ___ copies of The Bruce ($35 each).
If over 20 km. from Southampton, add $17 per order for shipping. (Free delivery within 20 km. of Southampton.)
I enclose a $_____ cheque to "Robin Hilborn".
Name:
Address:
Town:
Telephone:
---
• Price in Canada is in Can$. For U.S. addresses, in US$.
• We accept cheques, but not credit cards (no need to reveal your card number).
• No tax ... Family Helper Publishing is tax-exempt.
• Queries:
helper@familyhelper.net
.
---
About the author
Robin Hilborn is a retired information officer for the federal government and author of the local histories Southampton Vignettes (2010), Heart of the Great Lakes (2015) and The Bruce (2018) as well as articles on county history. He volunteers at the Bruce County Archives and serves on the executive of the Bruce County Historical Society and on the steering committee of the Bruce County Heritage Documentary Project. He lives in Southampton with his wife Heather Wallace.
---
For more information